C3 Grow Vibrant and Resilient Local EconomiesEdit
When people can get their needs met by local businesses, the region thrives. Some things are better at a larger scale, but if basic needs are met from far away, distant disruptions can be locally and broadly catastrophic.
Instead of:
Works with: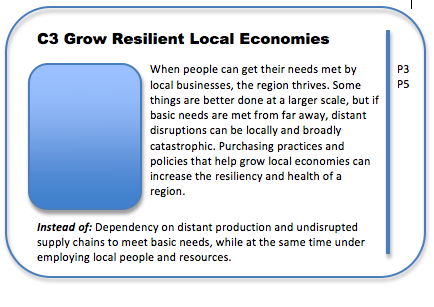 INFORMATION/RESOURCES
BALLE
Ad blocker interference detected!
Wikia is a free-to-use site that makes money from advertising. We have a modified experience for viewers using ad blockers

Wikia is not accessible if you've made further modifications. Remove the custom ad blocker rule(s) and the page will load as expected.